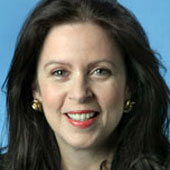 U.S. foreign policy reporter, Washington Post
Robin Wright covers U.S. foreign policy for The Washington Post. She has reported from more than 140 countries in the Middle East, Europe, Africa, Asia and Latin America.
Among many awards, she is the recipient of the U.N. correspondents' Gold Medal, the National Magazine Award, the Overseas Press Club Award for the "best reporting in any medium requiring extraordinary courage and initiative" — and a John D. and Catherine T. MacArthur Foundation Grant.
The author of several books on the Middle East, Ms. Wright has also been a visiting fellow at the Carnegie Endowment for International Peace, Yale, Duke, Stanford and the Brookings Institution. Her latest book is "Dreams and Shadows" (2008).
She lives in Washington, D.C.