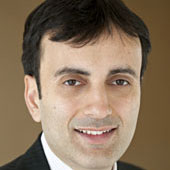 Head of the Global Emerging Markets Equity Team, Morgan Stanley
Ruchir Sharma is head of Morgan Stanley's Global Emerging Markets Equity team and also leads MSIM's Global Macro effort. He joined Morgan Stanley in 1996 and has 18 years of investment experience.
Prior to joining the firm, Mr. Sharma worked with Prime Securities (Delhi), a non-banking financial services firm, where he helped run the foreign exchange business. He has been a contributing editor with Newsweek and has written for publications such as the New York Times, Wall Street Journal, Financial Times, Foreign Affairs and Time.
He is also a contributor to the Economic Times, India's leading financial daily, and has been writing a regular column on global financial markets since 1991. His book, Breakout Nations: In Pursuit of the Next Economic Miracles, was published by W.W. Norton & Company in April 2012.