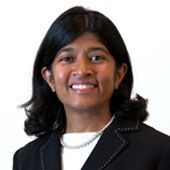 Managing Director, Corporate Executive Board (CEB)
Sampriti Ganguli is a Managing Director at the Corporate Executive Board (CEB), a research and advisory services firm that provides management guidance and best practices to 80% of the Fortune 100 companies and major public sector entities.
In her nine years at CEB, she has authored over 30 publications across the topics of risk-based capital allocation, corporate foreign exchange hedging strategies, integrated risk assurance and corporate tax compliance practices.
Prior to Corporate Executive Board, Ms. Ganguli worked at Deloitte Consulting in San Francisco and JPMorgan Chase in Singapore.
She attended the International School, Manila in the Philippines, and traveled extensively through South and Southeast Asia in her formative years.
Ms. Ganguli earned her Masters Degree in International Relations from SAIS Johns Hopkins and her MBA at the Wharton School of Business at the University of Pennsylvania.