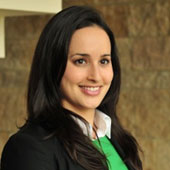 Strategy and Operations Consultant, Deloitte Consulting
Sarah P. Milsom is currently a strategy and operations consultant for the U.S. federal government with Deloitte Consulting. Previously, she served as a research analyst for the Global Economy and Development Program at the Brookings Institution, in Washington, D.C.
Ms. Milsom holds a M.P.P. degree from Georgetown University and a B.A. in economics from George Washington University. She has published articles in blogs on the Foreign Policy Magazine and Financial Times websites on climate change and global public goods, global governance, the IMF and social mobility and income distribution.
She is a co-author, with Uri Dardush, Kemal Dervis and Bennett Stancil, of Inequality in America: Facts, Trends, and International Perspectives (Brookings, 2012).