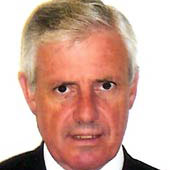 Executive Vice Chair, FutureWorld Foundation
Sean Cleary is Chairman of Strategic Concepts (Pty) Ltd., Managing Director of the Centre for Advanced Governance, Founder and Executive Vice Chair of the FutureWorld Foundation and Chairman of Atlantic Holdings (Pty) Ltd.
He studied social sciences and law at the University of South Africa, the University of Cape Town and Pahlavi University in Iran, and holds an MBA from Henley Management College at Brunel University in the United Kingdom. He served in the South African Navy on the staff of the Commander Maritime Defence before beginning a diplomatic career in the Middle East, the United States and Namibia. As Chief Director in Namibia in the mid-1980s, he initiated negotiations between all political parties, the release of political prisoners and the adoption of a Bill of Rights, paving the way for independence.
He lectures on global corporate strategy at the Graduate School of Business at the University of the Witwatersrand, the Henley Management College, the Gordon Institute of Business Science at the University of Pretoria, the Wharton School at the University of Pennsylvania, and Stellenbosch University. He also lectures on conflict resolution, the challenges of globalization and development economics at several U.S and European universities and institutes.
He is the co-author, with Thierry Malleret, of two books on risk: "Resilience to Risk" (Human and Rousseau, 2006), and "Global Risks" (Palgrave Macmillan, 2007).