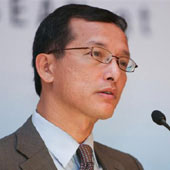 Chairman, Singapore Institute of International Affairs
Simon S. C. Tay is chairman of the Singapore Institute of International Affairs, a leading independent think tank in Asia.
He is also associate professor of international law at the National University of Singapore, at both the Faculty of Law and the Lee Kuan Yew School of Public Policy. He has previously taught at Harvard Law School, Yale University and the Fletcher School.
In 2009, Mr. Tay was based at the Asia Society in New York City as the Schwartz Fellow and continues as the Society's Global Council co-chair.
Mr. Tay has also been chairman of the National Environment Agency, the country's major agency for environmental protection and public health. He has also served as a Member of Parliament in Singapore and initiated the Singapore Volunteer Overseas, the country's equivalent of the Peace Corps.
He has appeared on CNN, BBC, CNBC and Bloomberg. He has previously written or edited five books and published in leading newspapers and academic journals. He has also spoken at many international meetings, including the World Economic Forum (Davos) and the APEC CEO Summit.
He earned an LLB from National University of Singapore and an LLM from Harvard University.