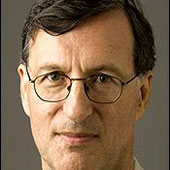 Reporter, New York Times
Steven Greenhouse is the labor and workplace reporter for the New York Times and author of The Big Squeeze: Tough Times for the American Worker.
Based in New York City, he has covered workplace issues for the Times since late 1995 and is one of the few remaining full-time labor reporters in the country.
In that position, he has written about wage trends, labor unions, immigrant workers, child labor and the way major corporations treat — and mistreat — their workers.
Greenhouse began at the New York Times in September 1983 as a business reporter, covering the steel industry and other basic industries. He next spent two-and-a-half years in Chicago, writing about the Midwest's economy during a time of plant closings and large-scale layoffs.
From 1987 to 1992, he was based in Paris as the newspaper's European economics correspondent.
In 1992, he became a correspondent in the Times Washington bureau, covering the Federal Reserve and economic policy and later the State Department and foreign policy. After nearly four years in Washington, Greenhouse asked to cover labor and workplace issues.
He has appeared on National Public Radio, PBS ("The News Hour"), MSNBC, CNN, and the BBC.
Greenhouse attended Wesleyan University in Connecticut and earned a master's degree from the Columbia University Graduate School of Journalism.