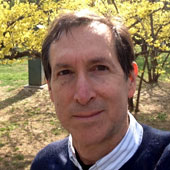 Energy Correspondent, Washington Post
Steven Mufson has been the energy correspondent for The Washington Post for seven years, covering topics such as the BP oil spill in the Gulf of Mexico, rising petroleum prices, the battle over climate legislation, and the shale gas revolution. A veteran journalist, he has written articles from two dozen countries.
He joined the Washington Post in 1989 and has been the newspaper's lead economic policy writer, Beijing correspondent, State Department reporter and deputy editor of the weekly Outlook section.
A graduate of Yale University, he started his career at the Wall Street Journal and worked in New York, London and Johannesburg, where he covered the two states of emergency and township uprising that rocked the country during the apartheid era. He is the author of Fighting Years: Black Resistance and the Struggle for a New South Africa (Beacon, 1990).
He has taught an American Studies class about opinion journalism at Georgetown University and an energy policy course at the University of California's Washington campus.