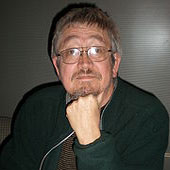 Author and Lecturer
Ansary grew up in Kabul, the capital of Afghanistan. He was named after Tamim-i-Ansar, one of two brothers who conquered Afghanistan for Islam 1200 years ago and who now lie buried in matching 12-foot-long marble tombs atop a hill overlooking the artists and poets cemetery. Ansary's father taught science and literature at Kabul University, and his American mother taught English at the first girls' school in Afghanistan. His relatives lived throughout the city and in the nearby grape-growing village of Deh Yahya.
Then the family moved to Lashkargah, a small town in the middle of the desert in southwestern Afghanistan, the headquarters of a vast American-funded project to make the desert bloom.
In 1964, Ansary got a scholarship to an American high school, Colorado Rocky Mountain School, and moved to America. Six years later he graduated with honors from Reed College and soon thereafter plunged into the sixties counterculture like a dog into surf; he wrote for an "alternative" weekly called The Portland Scribe, lived in communes, worked in restaurants, wrote obscure, experimental fiction, and quit his job often in order to hit the road and have adventures.
In 1980, Ansary traveled through North Africa and Turkey to explore Islam and found Islamism instead. It took him 14 years of working as a textbook editor for Harcourt Brace Jovanovich to recover from the shock. After 9/11, however, he hit the road again, this time to visit Afghan refugee camps in Pakistan and to make a journey to Kabul. After that, he took a long nap.
A regular columnist for Microsoft's learning site Encarta.com, Ansary has written nonfiction books for children, jokes for a mathematics program ("edutainment" software), a literary memoir, several novels for "reluctant readers," a series of educational comic books called Adventures Plus, countless letters to friends, and one two-line play.
His commentary has been heard on the Bill Moyers Show, the News Hour with Jim Lehrer, the Oprah Winfrey Show, Hardball, and numerous National Public Radio stations.