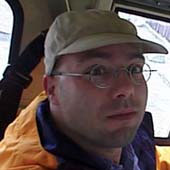 Author and Associate Professor at University of North Carolina, Chapel Hill
Mr. Campanella joined the UNC faculty in 2002. He also teaches at Nanjing University's School of Architecture in China, and will be a visiting professor at the Harvard Graduate School of Design in spring 2008. He is a Faculty Fellow of the Institute for the Arts and Humanities at UNC, and a former Fulbright fellow at the Chinese University of Hong Kong.
Before coming to UNC, Mr. Campanella lectured in the Department of Urban Studies and Planning at MIT and was a Mercer Fellow at the Arnold Arboretum of Harvard University.
Mr. Campanella is a recipient of the Spiro Kostof Book Award from the Society of Architectural Historians, and has also been awarded the John Reps and de Montequin Prizes from the Society for American City and Regional Planning History. In addition to his scholarly work, Mr. Campanella has written for several magazines and has been a featured guest on many television programs.
Mr. Campanella has consulted on urban design and planning projects in several countries.