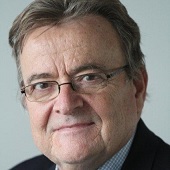 London Correspondent for Die Welt
Thomas Kielinger has been UK correspondent for the German national daily Die Welt since 1998. He had earlier served as the paper's Washington, D. C. correspondent between 1977 and 1985.
On his return from the United States, he became editor-in-chief of the weekly Rheinischer Merkur. In 1994, he started his own business as writer, broadcaster and political consultant.
His latest book, a biography of Winston Churchill, appeared in September 2014, ahead of the commemoration of the 50th anniversary of Churchill's death in January 2015. It is also now available as an unabridged audio book.
Several earlier books also underscore Kielinger's abiding interest in Anglo-German history: "Crossroads and Roundabouts. Junctions in German-British Relations" (1997, also available in German: "Die Kreuzung und der Kreisverkehr"); "Großbritannien", a country portrait as part of a series called "Die Deutschen und ihre Nachbarn" / The Germans and Their Neighbours (2009), edited by Richard v. Weizsäcker and Helmut Schmidt, as well as a biography of Her Majesty, "Elizabeth II. – Das Leben der Queen" (2011; dtv paperback 2014)).
For his contributions in the field of Anglo-German relations, Kielinger was made an Honorary Officer of the Order of the British Empire (OBE) and was also awarded the German Order of Merit. He is an acclaimed public speaker, a skill he honed during his eight years as a correspondent in the United States.
Mr. Kielinger was born in Danzig, modern-day Gdańsk, in 1940. He is married with four children.