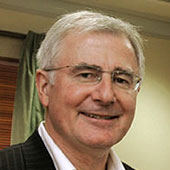 Member of the New Zealand Parliament
Tim Groser was born in Perth, Scotland and moved to New Zealand with his parents in 1958.
After completing his education at Victoria University, where he obtained First Class Honours, he served as a policy adviser in a number of key government departments — including Treasury, Ministry of Foreign Affairs and Trade and the Prime Minister's Advisory Group.
Mr. Groser is regarded as one of the world's leading experts on international trade — and until recently was New Zealand's Ambassador to the World Trade Organization (WTO), as well as Chair of Agricultural Negotiations for the WTO.
He was elected to the New Zealand Parliament in the 2005 General Election — and was appointed National's Spokesman for Arts, Culture & Heritage. He was also given an Associate Spokesmanship for Foreign Affairs & Trade due to his vast experience in this area.