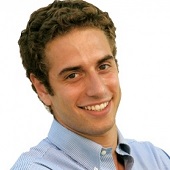 Member of Italy's National Democratic Party
Tobia Zevi was born and raised in Rome. He is the author of a book titled "The Speech of George: The Words and Thoughts of President Napolitano"(Donzelli, 2013).
From 2008 to 2012, Mr. Zevi worked for the President of the Province of Rome, Nicola Zingaretti. He is currently a member of the National Democratic Party in Italy.
He has written articles for several newspapers and magazines and is a frequent guest on the television program "Era la Rai 21.15." He received his PhD from the University of Rome in 2012.