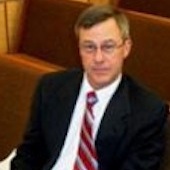 Judge Advocate General, U.S. Army (Retired)
Todd E. Pierce retired as a major in the U.S. Army Judge Advocate General (JAG) Corps in November 2012.
His most recent assignment was defense counsel in the Office of Chief Defense Counsel, Office of Military Commissions. In the course of that assignment, he researched and reviewed the complete records of military commissions held during the Civil War and stored at the National Archives in Washington, D.C.
Mr. Pierce served on active and reserve duty as both a JAG Officer and a Non-Commissioned Officer, beginning as a Marine Corps Rifleman. He was commissioned as a Judge Advocate in 1996.
His previous military service included service with the 349th Psychological Operations Company and the 205th Infantry Brigade as a senior NCO. He served in the Gulf War in 1990-1991 with three campaign ribbons.
Mr. Pierce's undergraduate degree is in history and social sciences, with an emphasis on the study of revolutionary movements, and their use of revolutionary violence in the form of guerrilla warfare and terrorism.
He contributed research to the Army-Air Force Center for Low Intensity Conflict during the 1980's, culminating in organizing a major conference on low intensity conflict and terrorism in 1989.