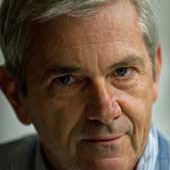 NPR Correspondent
Tom Gjelten is a veteran correspondent for NPR News, specializing in national security and international affairs.
His overseas reporting experience include stints in Mexico City as NPR's Latin America correspondent from 1986 to 1990 and in Berlin as Central Europe correspondent from 1990 to 1994.
He is the author of Sarajevo Daily: A City and Its Newspaper Under Siege (HarperCollins), and Professionalism in War Reporting: A Correspondent's View (Carnegie Corporation).
Prior to his current assignment, Gjelten covered U.S. diplomacy and military affairs, first from the State Department and then from the Pentagon.
Gjelten has also reported extensively from Cuba in recent years, visiting the island more than a dozen times. His new book is Bacardi and the Long Fight for Cuba: The Biography of a Cause (Viking).
Since joining NPR in 1982 as labor and education reporter, Gjelten has won numerous awards for his work, such as an Overseas Press Club award for "Best Business or Economic Reporting in Radio or TV."