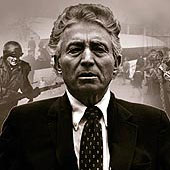 Photographer and author
Born in Greensburg, Pennsylvania in 1922, Tony Vaccaro was educated in Italy and America. He bought his first 35mm camera in 1942 — and one year later he was drafted into the U.S. Army.
Private Vaccaro was sent to Europe to join the Allied Invasion of Normandy, but he soon found he enjoyed shooting with his camera — rather than his rifle.
When Mr. Vaccaro returned to New York in 1949, he brought with him an outstanding portrayal of World War II and its aftermath — one of the most comprehensive photographic diaries by a serviceman in any war.
Back in New York, Mr. Vaccaro became chief photographer for Flair magazine and worked extensively for Look, LIFE and Venture.
Mr. Vaccaro's work has been exhibited worldwide and he has received the Légion d'Honneur and the Chevalier of Arts and Letters awards from the French government.
He lives and works in New York City.