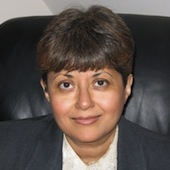 Professor of Management and International Business, West Virginia University
Usha Haley (PhD, New York University) has testified/presented on Chinese subsidies to the United States Senate, US-China Economic and Security Review Commission, US Congress Committee on Ways and Means, US International Trade Commission, US Department of Commerce and US Trade Representative.
Her research on Chinese subsidies has supported regulation in the USA and EU. Most recently, in July 2013, she testified before the US Senate on Chinese company Shuanghui's proposed acquisition of Virginia-based Smithfield Foods.
Her 200 publications and presentations include 7 books, her latest being, Subsidies to Chinese Industry: State Capitalism, Business Strategy and Trade Policy (Oxford University Press, 2013) and articles in California Management Review, Harvard Business Review and elsewhere.
She has lived and worked on five continents and is currently Professor of Management and International Business, West Virginia University. She may be contacted through http://usha.tel