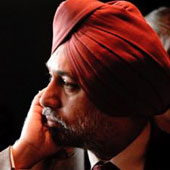 Vice President of Programs, EastWest Institute
Dr. Waheguru Pal Singh Sidhu is Vice President of Programs at the EastWest Institute.
Dr. Sidhu was the consultant to the first, second and third United Nations Panel of Governmental Experts on Missiles in 2001-2002, 2004 and 2007-2008 respectively.
He was also appointed as a member of the Resource Group setup to assist the United Nations High-Level Panel on Threats, Challenges and Change in 2004.
Dr. Sidhu earned his Ph.D. from the University of Cambridge. He holds a Masters in International Relations from the School of International Studies, Jawaharlal Nehru University, New Delhi and a Bachelor's degree in History from St. Stephen's College, Delhi University, India.