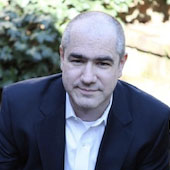 Politics and Foreign Affairs Editor, Slate.com
William Dobson is the politics and foreign affairs editor for Slate.com. He was previously the managing editor for Foreign Policy, senior editor for Asia for Newsweek, and associate editor for Foreign Affairs.
Mr. Dobson's articles and op-eds have appeared in the New York Times, Washington Post, Financial Times, Wall Street Journal, Boston Globe, Foreign Policy, New Republic and Newsweek, among others. He has provided commentary and analysis on international political issues for ABC, CNN, CBS, MSNBC and NPR.
From 2008 to 2009, Mr. Dobson was a visiting scholar at the Carnegie Endowment for International Peace. He has received fellowships from Harvard University, the University of Chicago and Stanford University. In 1994, he was awarded a Harry S. Truman Scholarship.
Mr. Dobson holds a law degree from Harvard Law School and a Master's degree in East Asian studies from Harvard University. He received his bachelor's degree from Middlebury College.