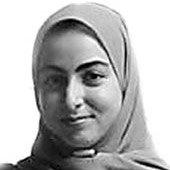 Pakistani women's activist
Ms. Cheema has worked for Peace x Peace since 2007 — a D.C.-based non-profit devoted to connecting women over the world for direct personal communication.
At Peace x Peace, she developes e-media resources for informing women in the network on key issues in arts, politics, business, education and more.
Previously, she worked for the Aurat Foundation, a non-profit based in Lahore, Pakistan — and devoted to the political, economic and social empowerment of women in Pakistan. Ms. Cheema's projects with Aurat included organizing a media campaign promoting craftswomen for a pan-South Asia Trade Fair, field in Pakistan's rural areas — and working with a legal team to combat human rights violations against women.
As a second-generation Pakistani-American, Ms. Cheema turned early to literature, communication and cross-cultural understanding while negotiating differences between East and West. Her love of women's literature have attuned Ms. Cheema to the creativity and strength that women tap into when confronting their challenges.
Ms. Cheema is a graduate of Johns Hopkins University with a B.A. in English Literature.