The Catastrophic Nevada Democratic Primary Debate
Why Hillary Clinton might still be nominated as presidential candidate by the Democratic Party.
February 20, 2020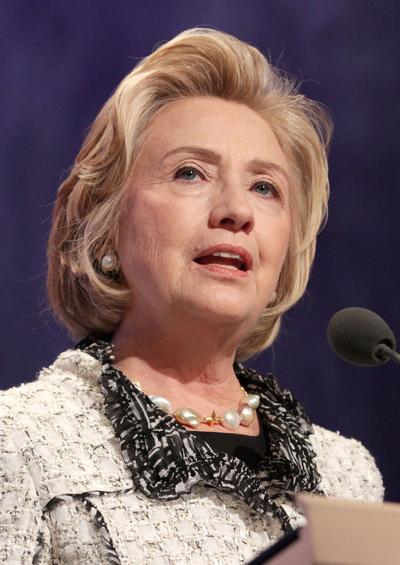 Hillary Clinton (Credit: JStone - Shutterstock.com)
Wednesday's primary debate for the presidential nomination for the Democratic Party was a disaster for the Democratic Party. Michael Bloomberg's presence led to an unprecedented pileup in this season of debates that left none of the candidates better off than they were before.
1. Michael Bloomberg
If primaries were decided by debate performance, Mayor Bloomberg should clearly be in single-digits. His policy ideas were flaky, his demeanor was arrogant and his defense of his own sexism and racism was laughable.
At some point, he made the absurd claim that the nondisclosure agreements with possibly dozens of women (we don't even know the number) was to protect their privacy, not him from the content of accused wrongdoing.
2. Amy Klobuchar
For the first time, we saw the real Klobuchar as she has been described by former colleagues. Mean and very insulting.
At some point, she dismissively addressed Pete Buttigieg and told him: "I wish everyone was as perfect as you, Pete."
It was one of many insults she hurled at others. She demonstrated that her leadership skills may be limited.
3. Elizabeth Warren
Warren continued on her warpath debate performances. Her angry defense of her policy proposals made one long for Hillary Clinton (more about that later).
4. Joe Biden
Many times, Joe was the calming voice in the rough waters of the debate. But as so often, on many other occasions he lost his train of thought.
Once again, Biden made an unnecessary reference to the elapsing time clock for his remarks, a statement many could interpret in a different way.
5. Bernie Sanders
Sanders is Sanders. A stubborn old man, who insists on the silliness of being a Socialist, a branding that not only is false but will also make him very vulnerable in a potential race against Trump.
He refused to answer more questions about his health and in reference to his recent heart attack explained that Mayor Bloomberg also had stents in his arteries. This was a not so thinly veiled repetition of his spokesperson's lie earlier in the day, who claimed that Bloomberg had several heart attacks (she later walked that one back).
But, if Bernie wanted to prove anything with his remark about stents and Bloomberg, it was that four of the six Democrats on the debate stage were simply too old for the presidency.
6. Pete Buttigieg
Pete was the other calming voice in this chaotic debate, a debate over which the moderators completely lost control. But he also showed that he can get a little bit into the mud, if he needs to.
At the same time, he really did not have a standout moment. He made a very convincing appeal to the Hispanic vote, but other than that he got largely drowned out.
Conclusion
The conclusion, from this debate is that the insertion of Mike Bloomberg bears great risks to the Democratic Party. As some pundits had remarked before the debate, nominating Bloomberg would put the stamp of Trumpism on the Democratic Party. Sexism, racism, arrogance and narcissism.
I have watched many primary cycles for the presidential nomination and on many occasions, the pundits had long debates about the chances for a brokered Convention, meaning that no candidate would win the required number of delegates during the primary process.
Most of these discussions in prior primary seasons were occupational therapy for overpaid pundits, because the simple electoral map each time clearly favored one candidate.
Oddly, the last brokered convention occurred in 1952, and in fact, there were two, one for the eventual Democratic candidate Adlai Stevenson and the other for the Republican one, Dwight D. Eisenhower. 68 years later, Democrats are indeed faced with the real chance that none of the candidates may arrive at the magic number of delegates.
A Hillary moment?
This could be a "Hillary moment" (I promised, I'd come back to her). Hillary Clinton has been clear about the fact that she does not rule out a run for the presidency, but obviously she is not participating and at this point cannot participate in the primary process.
But she could be the compromise candidate, a candidate who has the political heft, one who is measured, one who can step in at a moment's notice. For the first time, Hillary may emerge as a relief to many Democrats.
Moreover, Clinton has strong support in the Party establishment. Finally, she might have learned a thing or two about where and how to campaign.
Listening to the deafening decibel level of last night's debate, Hillary Clinton may become the candidate of reason for the Democratic presidency. And Democrats might breathe a sigh of relief rather than hold their noses when they fill out their ballot boxes this coming November
More on this topic