Greece Needs Growth, But How?
Will Syriza pursue real reforms to get the country growing?
February 3, 2015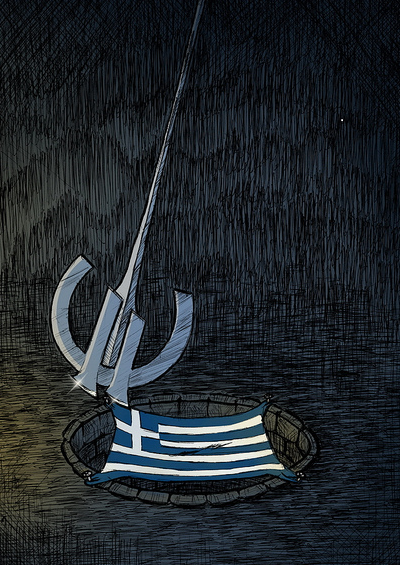 Credit: Ash Violette - www.flickr.com
The chart below tells a clear story: After a major fiscal stimulus in election year 2009, Greece did tighten its fiscal stance dramatically for four years in a row from 2010 to 2013, with a gradually declining degree of severity.
The fiscal adjustment was breathtaking, probably the most dramatic in any advanced economy in peacetime. As I argued repeatedly in those years, Greece and its creditors did get it wrong from 2010 to 2012.
Greece needed both fiscal repair and supply-side reforms. Instead, the country's governments and its creditors put far too much emphasis on tax hikes that choked economic growth.
The missing link
The missing "links" were labor market reforms and other supply-side measures. Greece needed them to cushion the fiscal blow and grow out of its trouble.
Mistakes were made. But that is history. Contrary to the protestations of the Syriza government, austerity had already ended in 2013. According to EU Commission data, Greece already relaxed its fiscal stance slightly in 2014 by 0.8% of its GDP and was on course for a cautious further fiscal stimulus in 2015 and 2016.
What the new Greek government is proposing is not to end austerity, but to grant Greece a major fiscal stimulus, principally by undoing many of the cuts of the years 2011-2013.
Even worse, they want to reverse many of the supply-side reforms that Greece has implemented, mostly under the Papademos and Samaras administrations.
Staying the course of supply-side reforms
In my view, Greece cannot afford either. It does not have the money for a major fiscal stimulus. And by reversing supply-side reforms, Greece would weaken the prospects for growth, employment and tax revenues. It would also not just weaken its case with creditors (and even friendly governments in Europe), but likely defeat its own case.
Returning to the pre-crisis labor market regulations would mean that case, all the pain borne by the Greek population in the last few years, could end up having been in vain.
Make no mistake about it: Greece can expect its official creditors to offer further support as long as it strengthens its growth potential. But asking European taxpayers to fund a wholesale reversal of Greece's fiscal repair and supply side reforms is not a winning proposition.
As regards the current international debate about Greece, it would be quite helpful if those who carelessly talk about "ending austerity" in Greece were to note that austerity already ended last year.
Under the last two administrations, Greece has done what it needed to do to put its finances on a sound footing by the end of 2013. If it stays the course of supply-side reforms, it can afford to slightly relax the reins.
But if the Syriza-ANEL coalition now scares off investors and shackles the supply-side of the Greek economy, the underlying Greek fiscal position will get worse and worse in the future.
This would eventually force the country into a new bout of serious austerity, whether inside the euro or outside. It would be far better not to encourage the new Greek government to go down that route.
Chart: Greek austerity was already over in 2014
Fiscal impulse in % of GDP
Change in the underlying primary fiscal balance, in % of GDP. Source: EU Commission forecasts autumn 2014, Berenberg calculations.
More on this topic