12 Facts on Sergeant-at-Arms in Ottawa and in History
The Canadians experience with terrorism brings the historic role to light.
October 30, 2014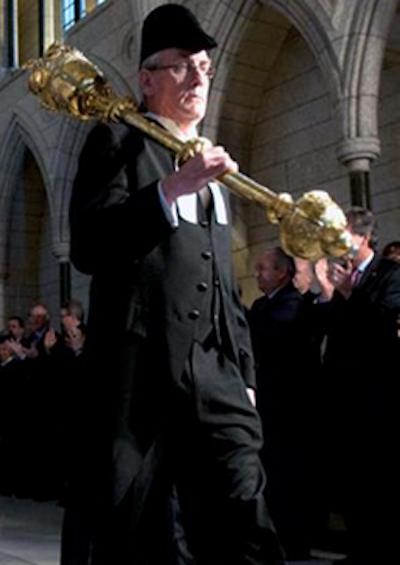 Sargent at Arms Kevin Vicker- Credit: Ryan Marshall
1. The word "sergeant" may come from a Latin word for "servant" or from "Serre Gente," a foot soldier who kept soldiers in tight ranks.
2. The title of Sergeant probably originated in Roman times when state officials hired bodyguards.
3. The Normans likely took the title to England after 1066. Philip II of France took a corps to the Holy Land in 1192 to guard him.
4. The Sergeants formed the bodyguard of King Richard I of England starting in 1189. The king took 24 to the Crusades with him.
5. The British House of Commons received its first Sergeant-at-Arms in 1415. The post in the House of Lords is called Black Rod.
6. Keeping order and removing unruly members are tasks of the Sergeants in most legislative bodies. Ceremonial maces may play a role in that task.
7. Countries that employ Sergeants include Australia, Bangladesh, Canada, New Zealand, South Africa, Sri Lanka, the United Kingdom and the United States.
8. Britain appointed its first female Sergeant in 2008. All 37 Sergeants of the U.S. House since 1789 have been men. The Senate has had 38 men and one woman.
9. Forty-nine of the 50 U.S. states have sergeants-at-arms. Rhode Island alone has none.
10. Doorkeeper was the function of the first sergeant-at-arms in 1322. The Sergeant of the U.S. House began announcing the President when the position of Doorkeeper was abolished in 1995.
11. Canadian House Sergeant Kevin Vickers spent 29 years in the Royal Canadian Mounted Police, led high-profile investigations of murder and drug importations and protected foreign dignitaries and the Royal Family.
12. Canadian Sikhs honored Vickers in 2013 when he ensured that their sacred kirpan dagger was allowed in Canada's legislature.
More on this topic
Takeaways