Author
Alexander Privitera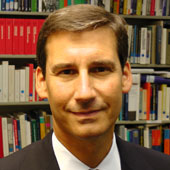 Director, Business and Economics Program, American Institute for Contemporary German Studies
Alexander Privitera is a senior fellow and director of the Business and Economics Program at the American Institute for Contemporary German Studies at Johns Hopkins University. His research focuses primarily on Germany's European policies and their impact on relations between the United States and Europe.
Previously, Mr. Privitera was the Washington-based correspondent for the leading German news channel, N24. As a journalist, over the past two decades he has been posted to Berlin, Bonn, Brussels and Rome.
Mr. Privitera was born in Rome, Italy, and holds a degree in political science from La Sapienza University, in Rome.