Renzi Takes Rome
What can the new Italian prime minister realistically achieve?
February 24, 2014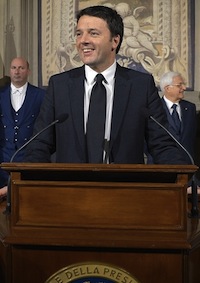 Matteo Renzi announcing a new cabinet, February 2014. (Copyright: Presidenza della Repubblica)
If Greece is on the top of people's lists of fragile eurozone countries, Italy cannot be far behind. The recent end of the short-lived Letta government did not come as a complete surprise.
Enrico Letta was effectively merely a caretaker, a guarantor for sticking to a pro-European course of fiscal consolidation and very mild structural reforms.
What is surprising, however, is that the man that is responsible for Letta's end, the young shooting star of Italy's left, Matteo Renzi, is now trying to inject new life in the nation's parliament. Only a few weeks ago, he himself had considered the current assembly to be on its last legs.
Now, rather than forcing new elections, Renzi is trying to form a government with the same coalition that he described as fragile, unstable, and unable to address the real needs of his country. His plan is to stay in power with this loose alliance for at least three more years.
Many observers describe him as the last chance for the traditional parties in Italy to regain some trust, reform the economy and institutions, and, last but not least, defuse the danger of euro-skeptic demagoguery from taking over the country. The latter stance is richly embodied by the former prime minister Silvio Berlusconi and the former comedian Beppe Grillo.
It is only logical that, to achieve meaningful progress, Renzi wants a relaxation of the strict European budget rules. He needs to free some capital, real as well as political — for example, to drive down labor costs.
The European Commission has agreed to grant Renzi some maneuvering room in principle, but under one condition: He must show that he is serious about structural reforms.
If progress is to be made, don't expect any fireworks from my fellow Italians. Any success will likely be slow rather than flashy. The pain is far from over, and renewed frustration could soon replace the hope that Renzi is the real thing.
The European fiscal straightjacket can be loosened–but not shed. The sooner Renzi and the Italians realize and accept this harsh reality, the better it is for the rest of the European continent. The alternative is a collision course with Brussels and its biggest stakeholder, Germany.
More on this topic
Takeaways
Read previous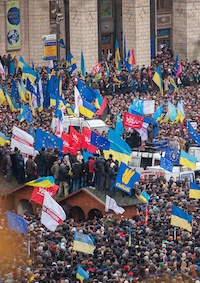 The Meaning of Ukraine's Big Weekend
February 23, 2014