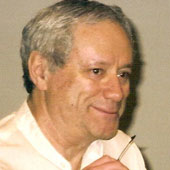 Political Artist
Anatol Zukerman was born in the Soviet Union. He graduated from two art schools in Moscow and the Moscow Institute of Architecture.
Following the completion of his studies, he worked as an architect and artist in Russia until 1972, when he emigrated to the United States. Currently, he lives in Massachusetts and works as an architect and artist. He is also a teacher, poet and translator at the New England Poetry Club and American Literary Translators Association.
Mr. Zukerman has taught architecture at Boston Architectural Center and Russian literature and politics at Brandeis Adult Learning Institute. As an architect, he specializes in residential and commercial projects that emphasize sustainable development in urban design.
His art has been exhibited internationally. Among his latest shows are solo exhibitions at Reporting Fine Art in Washington, D.C., the Newton Free Library in Massachusetts, and the Zeitgeist Gallery and Janus Art Center in Brookline, Massachusetts.
Mr. Zukerman's work has been featured in group exhibitions at the Danforth Museum of Art, Cambridge Multicultural Art Center, Natick Center for the Arts, Newton Open Studios, Harvard School of Design (all in Massachusetts), as well as the Beaufort Community Art Center in South Carolina and the Jewish Community Center in Texas.