Author
Arnaud de Borchgrave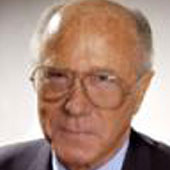 UPI Editor at Large
During a 30-year career at Newsweek magazine, Arnaud de Borchgrave covered most of the world's major news events, including 18 wars.
At 21, he was appointed Brussels bureau chief of United Press International (UPI), and three years later he was Newsweek's bureau chief in Paris. At 27, he became senior editor of the magazine, a position he held for 25 years.
He was appointed editor in chief of the Washington Times in 1985. He left his post with the Times in 1991 to join CSIS as a senior adviser and director of the Global Organized Crime Project, which became the Transnational Threats Project after 9/11.
He served as president and CEO of United Press International from 1999 to 2001 and continues to serve as editor at large for both UPI and the Washington Times.
De Borchgrave's awards include Best Magazine Reporting from Abroad and Best Magazine Interpretation of Foreign Affairs. In 1981, he received the World Business Council's Medal of Honor, and in 1985 he was awarded the George Washington Medal of Honor for Excellence in Published Works. In 2007, the Phillips Foundation honored him with its Lifetime Achievement Award.