Author
Ashutosh Sheshabalaya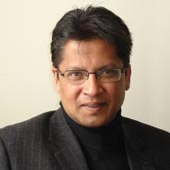 Managing Partner, SolvX
Ashutosh Sheshabalaya heads SolvX, a global security services and research firm. He is also an occasional commentator on geopolitical issues.
Mr. Sheshabalaya began his career as an accredited foreign correspondent in Brussels. He consulted with the Japanese government and PriceWaterhouse EC Services, after which he was headhunted by Egon Zehnder to lead the Communications department at the European Federation of Pharmaceutical Industries. Between 1995 and 2005, he worked with New York-based Find/SVP, covering Europe and India.
Mr. Sheshabalaya is the author of "Rising Elephant" (Common Courage Press, 2004, and Macmillan, 2005), which analysed India's emergence and its implications for the world. Chapters of his work have also appeared in "Exploring Globalisation" (McGraw Hill Ryerson, 2007) and "Free Trade" (Greenhaven Press, 2009). "Social Stratification" (Routledge, 2004) includes an analysis by Mr. Sheshabalaya about the U.S. jobs challenge as one of 93 original works on conflict.