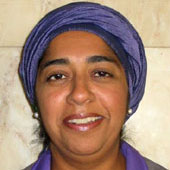 Ayesha Kajee is a South Africa-based consultant on governance, human rights and education issues. She previously served as Executive Director of the Freedom of Expression Institute and as the first director of the International Human Rights Exchange at Wits University in Johannesburg.
At the South African Institute of International Affairs, she headed the Africa Political Parties project. A skilled teacher, Ayesha has lectured courses in Politics, International Relations and Human Rights.
Her extensive travels through much of sub-Saharan Africa have facilitated an understanding of the governance and rights landscape in several regions. Key focus countries include Sudan, Zimbabwe, Rwanda, Malawi, Mauritius, Liberia, Kenya, Ghana and Angola.
An activist feminist devoted to capacity building, Ayesha is a founder member of the Right2Know campaign and has formerly served on the board of Transparency International's South Africa chapter.