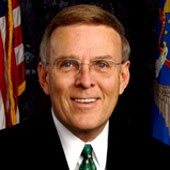 U.S. Senator (D – ND)
Senator Byron L. Dorgan has served for 24 years in the U.S. Congress.
He spent 12 years in the U.S. House of Representatives, where he served on the Ways and Means Committee. Mr. Dorgan is now serving his third term in the U.S. Senate representing the State of North Dakota.
First elected to the Senate in 1992, he has been a member of the Democratic leadership for ten years. In that capacity, he has served as the Assistant Democratic Floor Leader — and is currently the chairman of the Democratic Policy Committee.
Mr. Byron received his Bachelor of Science degree from the University of North Dakota in 1965 and went on to earn his Master of Business Administration (MBA) from the University of Denver.
His book "Take This Job and Ship It: How Corporate Greed and Brain-Dead Politics Are Selling Out America" was published in 2006.