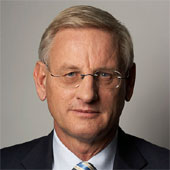 Foreign Minister of Sweden
Carl Bildt has served as Sweden's foreign minister since October 2006. He was the country's prime minister from 1991 to 1994.
During his tenure as prime minister, Mr. Bildt negotiated Sweden's accession to the European Union, an agreement he signed in June 1994. He also undertook far-reaching liberalization and structural reforms to improve Sweden's competitiveness and to modernize its welfare system.
Mr. Bildt also served as a member of the Swedish Parliament from 1976 to 2001. From May 1999 to July 2001, he was the UN Secretary General's Special Envoy for the Balkans.
His published works include The Country that Stepped Out into the Cold (1972), A Future in Freedom (1976), A Citizen of Holland, Sweden and Europe (1991) and Peace Journey (1997). He is a member of The Globalist's Global Advisory Board.