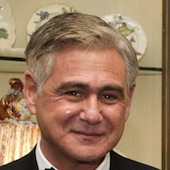 Founding Director, Charles Krause/Reporting Fine Art
Charles Krause is a veteran foreign affairs correspondent whose interest in "the art of social and political change" developed over the course of more than 20 years reporting from Latin America, Central Europe, the Middle East and Asia for The Washington Post, CBS News and The MacNeil/Lehrer NewsHour from 1978 to 2000.
His reporting for The NewsHour from Israel and the West Bank won an Emmy Award in 1987 while his reporting from Central America for CBS News and The NewsHour won the Latin America Studies Association Media Award in 1987. In 1979, he won the Overseas Press Club's Hal Boyle Award for distinguished foreign reporting for his coverage of Jonestown, where he was shot and wounded while on assignment for The Washington Post.
While on assignment covering the "Dirty War" in Argentina, the Sandinista Revolution in Nicaragua, the Peoples' Revolution in the Philippines and the collapse of the Warsaw Pact and the Soviet Union, he saw the impact that fine art and other visual images had on the dynamic of social and political change.
In 2011, he opened his own gallery in Washington, DC, Charles Krause/ Reporting Fine Art, devoted exclusively to showing fine art by artists whose work has influenced, or seeks to influence, social and political issues in countries around the world.
Mr Krause did his undergraduate work at the University of Pennsylvania, where he was editor-in-chief of the student newspaper and is a former University Trustee, and holds a master's degree in public affairs from Princeton University's Woodrow Wilson School. He is currently president of the American Friends of the Gdansk Theatre Foundation, which will open a new $40 million Shakespeare theatre in Gdansk, Poland later this year.