Anatol Zukerman on Russia
How political art helps us grasp unpleasant political realities: The case of Russia/Soviet Union.
March 8, 2014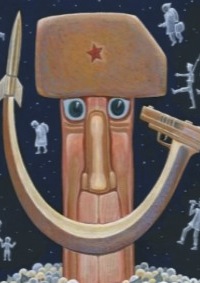 Courtesy: Krause/Reporting Fine Art, Washington, DC
Anatol Zukerman is like few other artists working today. His drawings are unabashedly and almost exclusively political. They reflect his openly progressive politics and the belief that art should serve "to better the human condition."
The artist's one-man show was entitled "Truth to Power: Anatol Zukerman's Responsible Art," held from June 30 through August 18, 2013 in Washington, D.C. I chose to give Zukerman his first one-man show outside Boston at my gallery in Washington because he seeks to redefine our perception of what makes visual art "important" and the role visual artists play in society.
Zukerman rejects "art for art's sake," the underlying principle that guided artists throughout much of the 19th and 20th Centuries. His art is meant to address the problems of humanity, conveying strong messages meant for all people using a graphic language they can understand and appreciate.
Born and trained as an artist and architect in Moscow, when it was still the capital of the Soviet Union, he fled in 1973 as a refugee from the anti-Semitic "workers' paradise" where he was raised. By 1975, he had completed a master's degree in architecture at the Harvard Design School.
Zukerman is ever the critic and contrarian. His extraordinary drawing, "Only the best people listen to Rachmaninoff" (1986), shows that, unlike many Soviet Jewish refugees, he never felt nostalgia for the vast amounts of money Russia's Soviet leaders poured into high culture.
Enlarge
"Back to the USSR" by Anatol Zukerman (acrylic on canvas) 2010 — courtesy of Charles Krause/Reporting Fine Art, Washington, DC
"Back to the USSR" (2013) shows that Putin and his attempt to regain Russia's stature as a world power, largely at the expense of the United States, have not fooled the artist either.
Beautiful political art
Quite apart from the political messages they convey, these drawings are also beautifully realized oil pastels that rise to the level of fine art. Zukerman's distinctive use of color and unusual composition and is highly original.
His talents as an artist are most clearly evident in "Russia." Its tour de force of portraits of Soviet Russia's leaders runs the gamut from Lenin and Trotsky to its famously alcoholic Liberator, Yeltsin – who is portrayed in a bottle.
Zukerman's skill as an artist and his determination to use his art to influence world opinion by creating a universal style that is original, refined and easily understood hold much allure for art aficionados and collectors with an interest in the great issues of our time.
What makes Zukerman's work important from the perspective of art historians, museum curators and critics has little or nothing to do with his style. They might even choose to disregard his particular brand of politics and his views on specific issues.
Zukerman's importance rests on his open rejection of the largely apolitical role we have consigned to art and artists in the West throughout most of our history.
Could Zukerman be the avant garde of a new 21st Century art actively engaged in the great political and social issues of our time? Take a look at the images and decide for yourself.
It is important to note that, as unsparing as Zukerman is of Russia, over time he has also become disillusioned with the capitalism he has experienced in his adoptive home of the United States. The unemployment, poverty and economic inequality he found there speak volumes to him as well.
Editor's note: More of Zukerman's works, about the United States, will be published in The Globalist soon.
More on this topic
Read previous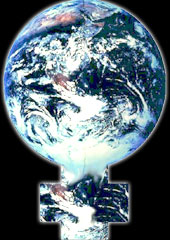 10 Facts for International Women's Day
March 8, 2014