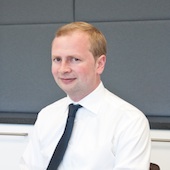 Senior Economist at Berenberg Bank, London
Dr Christian Schulz joined Berenberg Bank in London as a Senior Economist in April 2011. He covers the Eurozone economy, the ECB, the German economy and global economy. In frequent television and radio appearances, he contributes to the broader economic policy debate.
Prior to Berenberg, he worked as an economist at the European Central Bank from 2008 to 2011, mainly in the Directorate General Payment Systems and Market Infrastructure. From 2003 to 2008, Dr Schulz was a consultant at The Boston Consulting Group in Frankfurt and Hamburg, Germany, where he was part of the Banking Core Group.
Dr Schulz holds a doctorate degree in macroeconomics from the University of Hamburg. Parts of his research were conducted in cooperation with Eesti Pank, the central bank of Estonia.
He also holds the German Master-equivalent degree in economics ("Diplom-Volkswirt") from the University of Hamburg and a Bachelor of Science degree in financial economics from the University of St Andrews, UK.