Author
Daniel T. Griswold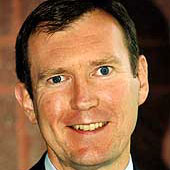 Associate Director, Center for Trade Policy Studies, Cato Institute
Dan Griswold is associate director of the Cato Institute's Center for Trade Policy Studies.
Before joining Cato, he served for 12 years as editorial page editor of "The Gazette," a daily newspapers in Colorado Springs, Colorado. From 1981 to 1983, Mr. Griswold was press secretary for former U.S. Congressman Vin Weber (R-Minnesota).
Mr. Griswold has testified before congressional committees and commissions on the U.S. trade deficit and on the impact of steel protection. His studies have focused on the trade deficit, imports and manufacturing, the World Trade Organization, congressional voting on trade and Mexican immigration.
He is co-editor of the Cato book, "Economic Casualties: How U.S. Foreign Policy Undermines Trade, Growth and Liberty" (1999).
Mr. Griswold earned a Bachelor's degree in journalism from the University of Wisconsin at Madison — and a Diploma in economics and a Master's degree in politics of the world economy from the London School of Economics.