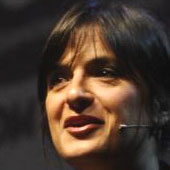 Member of the Greek Parliament
Elena Panaritis is a member of the Greek Parliament.
Before her election in 2009, Ms. Panaritis was an economist at the World Bank, where she specialized in property rights reform. She has lectured at Insead, the Wharton School and the School for Advanced International Studies at Johns Hopkins.
As a social entrepreneur, she also heads the investment advisory firm Panel Group, which invests in undervalued property and provides counsel on transforming informal real estate and related public policy.
She is the author of "Prosperity Unbound: Building Property Markets with Trust" (Palgrave Macmillan, 2007).