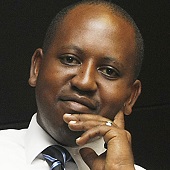 Founder and CEO, Candid Media
Ellis Mnyandu is the founder and CEO of South African-based content marketing company Candid Media, which encompasses content development, radio and video.
Previously, Ellis Mnyandu served as editor of Business Report, South Africa's largest financial newspaper, beginning in January 2011. He had been the newspaper's deputy editor since May 2010.
Formerly, Mr. Mnyandu was a senior correspondent for Reuters in New York, where he led a team of reporters covering Wall Street and U.S. news. He reported on the Enron accounting scandal, the 9/11 attacks, Hurricane Katrina, the election of Barack Obama as U.S. President and the global financial crisis of 2007-09.
Before heading to the Unites States, he was a correspondent in the Johannesburg bureau of Reuters, covering economics, business and politics. He also oversaw a team of freelance reporters who reported from several Southern African countries, including Mozambique and Swaziland.
He also worked as a Reuters deputy parliamentary correspondent based in Cape Town, where he covered the political and financial spectrum of the South African legislative process and the transition from Nelson Mandela to Thabo Mbeki's presidency.
Mr. Mnyandu began his journalism career in Durban, where he worked on a freelance basis for SABC radio and the British Broadcasting Corporation (BBC).