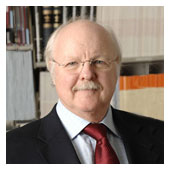 Executive Director of the American Institute for Contemporary German Studies, Washington, D.C.
Jackson Janes is executive director of the American Institute for Contemporary German Studies at the Johns Hopkins University, in Washington, D.C. He joined the AICGS in 1989 and has served as executive director since 1994.
Mr. Janes serves on the Board of Trustees of the American Bundestag Intern Network (ABIN) in Washington D.C. and on the Advisory Board of the Allied Museum in Berlin.
In 1985, Mr. Janes was invited to carry out a nationwide survey on the status of German Studies in American colleges and universities. His findings were published by the German Marshall Fund in 1986 under the title "Mixed Messages: The Study of Contemporary Germany in the United States."
Between 1980 and 1985, he served as director of the European Office of the German Marshall Fund of the United States. Prior to this he was Director of the German-American Institute in Tübingen since 1977.
Mr. Janes has lectured throughout Germany and the United States and has published articles and op-ed pieces on topics dealing with Germany, German-American relations and transatlantic affairs. In addition to regular commentary given to German and American news radio, he has appeared on CBS, CNN, C-SPAN, PBS, CBC and on German television.
He holds a B.A. in sociology from Colgate University, an M.A. from the University of Chicago's Divinity School, and a Ph.D. in international relations from the Claremont Graduate School.