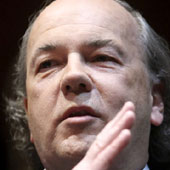 Investment banker and author
James Rickards is the senior managing director at Tangent Capital Partners LLC, a merchant bank based in New York City. He is also the senior managing director for market intelligence at Omnis, Inc., a technical, professional and scientific consulting firm located in McLean, VA.
Mr. Rickards is a counselor, investment banker and risk manager with over thirty years of experience relating to capital markets. He advises the U.S. Department of Defense, the U.S. intelligence community and major hedge funds on global financial issues, and has served as a facilitator of the first ever financial war games conducted by the Pentagon.
He appears frequently on CNBC, CNN, Fox, C-SPAN, Bloomberg TV and NPR. He also lectures at Northwestern University and the School of Advanced International Studies at Johns Hopkins University.
Mr. Rickards holds an LL.M. from the New York University School of Law and a J.D. from the University of Pennsylvania Law School. He earned an M.A. in international economics from the Paul H. Nitze School of Advanced International Studies and a B.A. at Johns Hopkins.
His book, Currency Wars: The Making of the Next Global Crisis, was published by Portfolio/Penguin in late 2011.