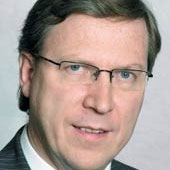 Former Senior Managing Director, State Street Global Advisors
John Nugée is a senior advisor at the Official Monetary and Financial Institutions Forum (OMFIF).
From 2000 to 2013, he served as a senior managing director of State Street Global Advisors (SSgA), head of SSgA's Official Institutions Group and a member of SSgA's Senior Management Group. His responsibilities included advising SSgA's central bank, sovereign wealth fund and other official sector clients.
Previously, he also was a member of the board of the International Capital Market Association (ICMA), a member of ICMA's Asset Managers and Investors Council Executive Committee (AMIC), and an adviser to the Macro-Economic and Financial Management Institute of Africa (MEFMI).
Prior to joining SSgA in 2000, Mr. Nugée worked in official reserves management for central banks, including as the executive director in charge of reserves management at the Hong Kong Monetary Authority and as the chief manager of reserves management at the Bank of England.
He was also a director of the European Investment Bank and European Investment Fund, and a lecturer and technical adviser at the Bank of England's Centre for Central Banking Studies.
Mr. Nugée is a regular commentator on sovereign asset and central bank reserves management issues. He has published widely, including a major book on the Gulf as a new force in global finance, co-edited with Chatham House, and the textbook Foreign Exchange Reserves Management for Central Banks.
He has a degree in mathematics from Cambridge University and a diploma in business studies from the London School of Economics.