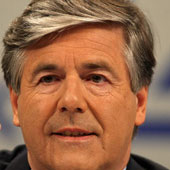 Chairman, Management Board and Group Executive Committee, Deutsche Bank
Josef Ackermann is chairman of the management board and the group executive committee of Deutsche Bank. He joined Deutsche Bank in 1996.
He is also a member of the Supervisory Board of Siemens AG (Second Deputy Chairman), a non-executive member of the Board of Directors of Royal Dutch Shell plc and a member of the Board of Directors of Zurich Financial Services Ltd.
Mr. Ackermann also plays an active role in the Initiative Finanzstandort Deutschland, the Institute of International Finance, the World Economic Forum, the St. Gallen Foundation for International Studies, the Foundation Lindau Nobelprizewinners Meetings at Lake Constance and the Metropolitan Opera (New York).
In 2007, he accepted an appointment as Visiting Professor in Finance at the London School of Economics. In July 2008, he was appointed Honorary Professor at the Johann Wolfgang Goethe University Frankfurt.
Mr. Ackermann studied economics and social sciences at the University of St. Gallen. He is an honorary fellow of the London Business School and holds an honorary doctorate from the Democritus University of Thrace, in Greece.