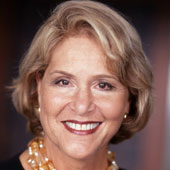 President, Rockefeller Foundation
Judith Rodin has been president of the Rockefeller Foundation since 2005. She is the first woman to serve as the Foundation's president in its 96-year history.
Previously, she was president of the University of Pennsylvania, the first woman to lead an Ivy League institution. She was also provost of Yale University.
At Yale, Ms. Rodin chaired the Department of Psychology and served as dean of the Graduate School of Arts and Sciences before becoming provost. Her work earned her both the American Psychological Association's Distinguished Early Career Award in 1977 and its Distinguished Lifetime Contribution Award in 2005.
She is a member of the American Academy of Arts and Sciences, American Philosophical Society, and Institute of Medicine of the National Academy of Sciences. She is also a director of AMR Corporation, Citigroup and Comcast.
Ms. Rodin graduated from the University of Pennsylvania, earned her Ph.D. from Columbia University. She has authored more than 200 academic articles and has written or co-written 12 books, including her most recent, The University and Urban Renewal: Out of the Ivory Tower and Into the Streets.