Author
Kandeh K. Yumkella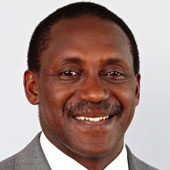 Director-General of the United Nations Industrial Development Organization (UNIDO)
Kandeh K. Yumkella is the director-general of the United Nations Industrial Development Organization (UNIDO).
He has worked in several high-level policy positions in UNIDO, including as special adviser to the two previous Directors-General and as representative and director of UNIDO's regional office in Nigeria. He was appointed Director-General in 2005, and reconfirmed for a second term in 2009. From 1994 to 1995, he was Minister for Trade, Industry and State Enterprises of Sierra Leone.
Mr. Yumkella also chairs the Energy Knowledge Network, which brings together the UN organizations that deal with energy issues. He is also co-Chair of Sustainable Energy for All, a group of high-level representatives from the private sector, government, intergovernmental organizations and civil society that works to create a global strategy for developing clean, sustainable energy sources.
Mr. Yumkella earned a B.Sc. degree in general agriculture at Njala University College, Sierra Leone. He continued his education in agricultural economics in the United States, earning a M.Sc. degree at Cornell University and a Ph.D. at the University of Illinois.