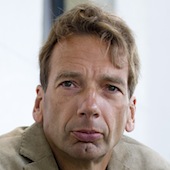 Energy Journalist
Karel Beckman is co-founder and editor-in-chief of the independent European publication Energy Post, launched in June 2013. Energy Post reports on and analyzes European and international energy trends.
Previously, he was editor of European Energy Review from its inception in November 2007 until February 2013, as well as energy editor at the Dutch financial newspaper Financieele Dagblad.
In 2011, he won the 2010 Award for Excellence in Written Journalism from the International Association for Energy Economics. Karel has been writing about energy for over 20 years.