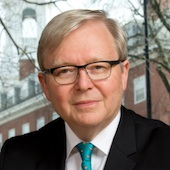 Australia's 26th Prime Minister
Kevin Rudd is an Australian politician who was twice Prime Minister of Australia, from 2007 to 2010, and again in 2013.
Politically active from his youth, he joined the ALP in 1972. He attended the Australian National University in Canberra, where he earned a bachelor's degree in Asian studies before embarking on a diplomatic career.
From 1981 to 1988 he served in Australia's Department of Foreign Affairs and Trade, holding embassy posts in Stockholm and Beijing.
Rudd was first elected to the federal House of Representatives as the member for Griffith, Queensland in 1998 and was twice reelected in 2001 and 2004.
In Parliament he held a series of positions that gave him increasing responsibility within the Labor Party. After the 2001 election, Rudd was appointed shadow minister for foreign affairs.
Rudd was chosen as leader of the Australian Labor Party from 2006 to 2010.