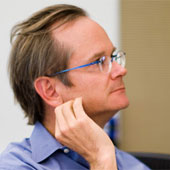 Director, Edmond J. Safra Foundation Center for Ethics, Harvard University
Lawrence Lessig is the director of the Edmond J. Safra Foundation Center for Ethics at Harvard University, and a professor of law at Harvard Law School.
Mr. Lessig has also been a professor of law at Stanford Law School (where he was founder of the university's Center for Internet and Society) and the University of Chicago Law School. He clerked for Judge Richard Posner on the 7th Circuit Court of Appeals and Justice Antonin Scalia on the United States Supreme Court.
For much of his academic career, Mr. Lessig has focused on law and technology, especially as it affects copyright. He is the author of several books on the subject, including Remix: Making Art and Commerce Thrive in the Hybrid Economy (Penguin, 2008) and Code: And Other Laws of Cyberspace (Basic Books, 2006).
His latest book, Republic, Lost: How Money Corrupts Congress — and a Plan to Stop It, was published by Twelve/Hachett in 2011.
Mr. Lessig earned a B.A. in economics and a B.S. in management at the University of Pennsylvania, an M.A. in philosophy at Cambridge University, and a law degree from Yale University.