Author
Lorenzo Bini Smaghi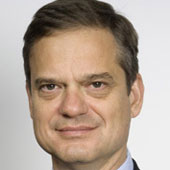 Member of the Executive Board of the European Central Bank
Lorenzo Bini Smaghi has been a Member of the Executive Board of the European Central Bank (ECB) since June 2005.
He is also President of the Fondazione Palazzo Strozzi, a mixed private-public institution which promotes cultural initiatives in Florence.
Before joining the ECB, Mr. Bini Smaghi was Director General for International Financial Relations of the Italian Ministry of Economy and Finance.
His earlier appointments include Deputy Director-General Research of the ECB, Head of the Policy Division of the European Monetary Institute (Frankfurt) — and Head of the Exchange Rate and International Trade Division of the Research Department of Banca d'Italia (Rome).
Mr. Bini Smaghi has published extensively in monetary and international economics and is the author of several articles and books on international and European monetary and financial issues.
He grew up in Brussels (Belgium), acquiring a knowledge of foreign languages at an early age. In 1974, he graduated from the Lycee Francais de Bruxelles.
In 1978, Mr. Bini Smaghi graduated in Economics from the Université Catholique de Louvain (Belgium). In 1980, he received a master's degree in Economics from the University of Southern California and a Ph. D. from the University of Chicago in 1988.
He is married and has two children.