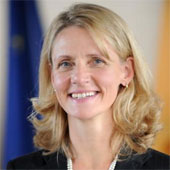 Professor, Copenhagen Business School
Lucia Reisch is an economist and a professor of consumer policy at Copenhagen Business School in Denmark. She also holds a permanent guest professorship at the Zeppelin University of Friedrichshafen, in Germany.
Since 2011, she has been a research professor at the German Institute for Economic Research, in Berlin.
Her work primarily focuses on consumption, intercultural consumer behaviour, consumers and new technologies, consumer policy issues and behavioural economics. She is editor-in-chief of the Journal of Consumer Policy.
She studied economics and social sciences at the University of Hohenheim and business administration at the University of California, Los Angeles. She has a Ph.D. in economics from the University of Hohenheim.