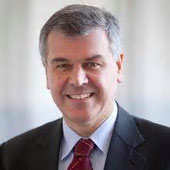 Director of the Center for European Integration Studies
Ludger Kühnhardt is a professor of political science and director of the Center for European Integration Studies (ZEI) at the University of Bonn, Germany, positions he has held since 1997. Before that, he taught at Freiburg University, where he was also dean of the faculty.
From 1987 to 1989, Mr. Kühnhardt served as speechwriter on the staff of German Federal President Richard von Weizscker. He has been a visiting professor at the University of Cape Town, the College of Europe, Dartmouth College, Stanford University, Seoul National University and St. Antony's College, Oxford.
Mr. Kühnhardt has served as a consultant or adviser to the Secretary General of the Council of Europe, the President of the European Parliament and the ECOWAS Parliament. He is a member of the Advisory Board for European Affairs of the German Catholic Bishop's Conference and serves on the board of several academic journals in Korea, Turkey and Croatia. In 2004 he was awarded the European Science Prize of the European Cultural Foundation.
His most recent books include "Africa Consensus: New Interests, Initiatives, and Partners" (2014), "Region-Building. The Global Proliferation of Regional Integration" (2010), and "Crises in European Integration: Challenges and Responses, 1945-2005" (2009).