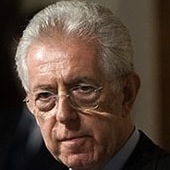 Former Prime Minister of Italy
Mario Monti is a former Italian Prime Minister and Chairman of the Berggruen Institute on Governance's Council for the Future of Europe.
Monti became an Italian Senator-for-Life in late 2011. After taking that office, Monti served as Prime Minister of Italy from November 2011 to April 2013, a period during which he pursued major structural reforms to the Italian government and economy in response to the ongoing eurozone crisis.
In the past, he has also served as the European Commissioner for Internal Market, Services, Customs and Taxation as well as the European Commissioner for Competition.
Monti is an economist by training and graduated from Bocconi University of Milan. Prior to governmental work, he was a research economist and academic in Italy, focusing on banking behavior.